Hvordan gjøre E-post tilgjengelig Offline
Contents
Manually
Right-click on an email (or several selected emails) and check Keep offline copy.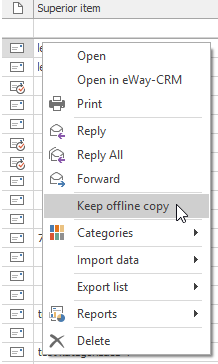 Now, this email is saved on your computer and will be available in the offline mode.
Automatically
This option is used mainly by companies, whose employees travel a lot, do not have Internet connection frequently and may need offline access to their co-workers' emails and/or documents.  Additional space on your hard drive will be required in this case, or you may need to delete outdated emails and documents.
Click Administration Settings on the eWay-CRM ribbon and Log In.

Go to General Settings> Global settings > Category: Main and double-click on Keep all documents and emails offline on all client computers.


Type 1 into the field and click OK.

Wait for 30 sec for automatic synchronization or synchronize changes manually. To do that, right-click on the eWay-CRM agent in the system tray and select Synchronize.
Now, all emails and documents will be available in the offline mode for all eWay-CRM users.